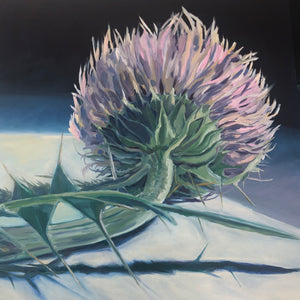 I grew up a white woman in affluent America. This oil on canvas painting explores my experience of examining my complicity and resulting fragility, in the wake of George Floyd's death. Holding thistle is prickly and uncomfortable, but in Scottish culture, thistles represent strength, determination and devotion, much like my beliefs about how I measure my success in today's culture.  This painting examines the shadow of those beliefs.  
24 in. X 24 in. Oil on gallery wrapped canvas, framed in a floating silver wood frame.
Available for purchase, but must be available for submission and display to shows thru 2021. DM me so we can discuss availability and shipping.