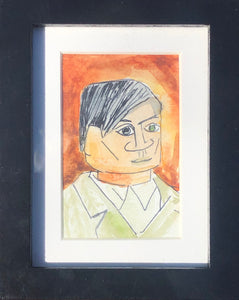 This portrait is inspired by Pablo Picasso's 1907 self portrait, painted when he was 25 years old.
Start conversations with kids, teach art history, spruce up your bookcase with this lego mini- portrait, done "Picasso-style."
This original re-interpretation of Picasso's self portrait, is a 2 in. x 3 in. original watercolor, matted and framed in a 3-3/4 in x 4-3/4 in wooden frame with backer desktop stand.